With the latest development of artificial intelligence (AI), creative industries are experiencing a true revolution. We're still unsure how this will affect humanity long term, but it has undoubtedly brought significant transformations to interior design. AI technologies are revolutionizing the way designers conceptualize, create, and execute their ideas. DesignSpec is taking a closer look at how AI is progressively affecting creativity in the interior design industry and discussing its game-changing implications for the future.
Design Inspiration and Visualization
Designers know that a creative rut is not a joke. If generating new ideas always feels like a dreadful task, AI will help jumpstart the process. Design platforms and software provide interior designers with various design inspiration and visualization options. These new tools leverage AI algorithms to analyze millions of images, styles, and trends, helping designers discover new ideas and refine their design concepts. With access to AI-generated mood boards, color palettes, and style recommendations, designers can explore diverse possibilities and develop unique, personalized interiors.
One of the exemplary tools for design inspiration is MidJourney. This is a text-to-image AI art generator that can be extremely useful for the brainstorming stages of the creative process. All you need to do is type in some keywords of the kind of design you want to visualize, and you'll get the AI-generated image in a matter of seconds. This wonderful tool allows interior designers to quickly understand which ideas work and which are best placed back on the shelf. Looking for tips on how best to prompt Midjourney for the best results, this Simplified blog, 'The Ultimate Guide To Writing Prompts For Midjourney' breaks it down.
Space Planning and Layout Optimization
The interior design process heavily relies on precision. While the designers work hard to refine the style and look, both the DesignSpec platform and AI tools can optimize space and layout planning. While AI-powered software can suggest optimal furniture arrangements, lighting placements, and traffic flow patterns by analyzing room dimensions, functional requirements, and user preferences, DesignSpec will transpose those plans into precise and actionable specification sheets for partner vendors.
In a world that is becoming more and more aware of the human impact on the environment, these kinds of AI tools can also assist designers in creating more functional and energy-efficient spaces by maximizing material utilization and optimizing lighting, heating, and cooling systems. For instance, using Foyr Neo for your next project could be a great environmentally friendly decision. This useful AI tool with VR and AR features provides ways of creating sustainable designs that take into consideration material selection and space optimization preferences and can also help with lighting simulation.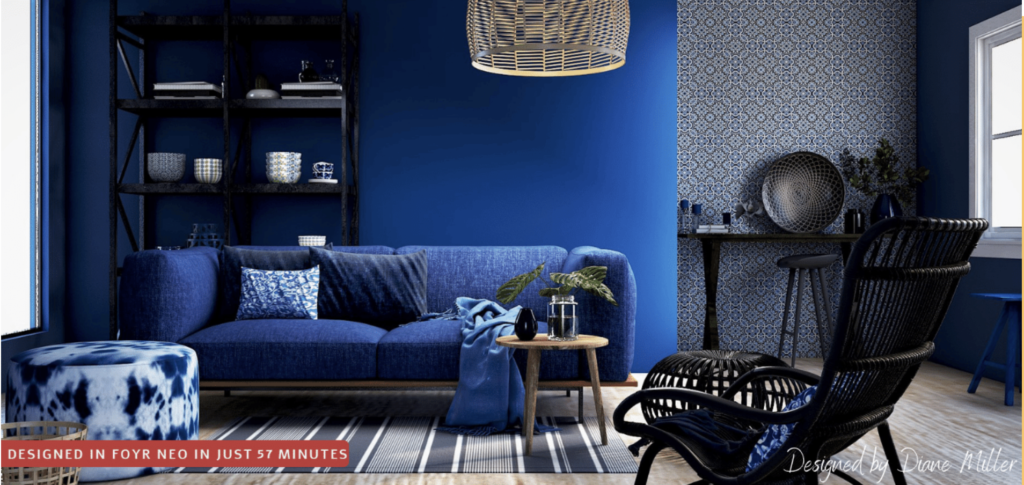 Efficiency and Time-Saving
Undoubtedly, AI is an interior designer's best friend when it comes to time efficiency. AI-powered software can generate detailed floor plans, lighting plans, and material schedules, reducing manual effort and human error. Additionally, AI algorithms have the ability to analyze data from previous projects, identifying patterns and optimizing design workflows. It's an amazing opportunity for designers to take on more projects and let the creative juices flow without worrying so much about time constraints.
Archi is a powerful tool that demonstrates this well. This software will assist you in generating a variety of designs for the spaces you're working on. All that you need to do is upload a photo of the specific room, fill out a short form with your needs and preferences, and select the style. Archi will take it from there. It's a pretty straightforward tool that makes the design process a lot more efficient.
Material and Product Selection
Nowadays, every material or piece of furniture that a particular design requires comes with various options available on the internet. AI-powered platforms simplify the selection process by providing automated product recommendations based on the desired style, budget, and specifications. Designers can quickly browse through curated options, compare materials, and visualize how different products will look in the space, enhancing design efficiency.
The conversation about material selection and utilization once again reminds us to take into consideration the question of the environment. Recently IKEA and a team of designers at Space10 published a map that uses ChatGPT to show places around the world with abundant sources of waste materials. Later, the team used another AI tool that generated dishware from these "wasteful" materials. This insightful case study demonstrates the infinite possibilities of efficient re-utilization of materials in interior design.
Customization and Personalization
It's pretty natural for humans to strive for uniqueness. In a world that has everyone buying the same iPhones every year, perhaps interior design is a prime area for reflecting one's individuality. With the ability to generate parametric designs, AI algorithms can create bespoke furniture pieces and architectural elements tailored to specific dimensions, styles, and preferences. The clients will rest peacefully, knowing the design reflects their personality to a tee and is truly one of a kind.
Augmented Reality (AR) and Virtual Reality (VR)
AR and VR technologies are becoming increasingly prevalent in the interior design industry. Clients can explore and interact with their future spaces virtually by using AI-powered rendering and modeling software to generate realistic 3D visualizations.
A great example of a software tool for interior designers that successfully uses VR and AR technology is InteriorFlow. This is a virtual staging solution powered by AI that generates realistic renders of the space that enable you to have a complete understanding of what the design will look and feel like. This elevates the communication between designers and clients to the next level, minimizes misunderstandings, and facilitates better decision-making.
Design Forecasting and Trend Analysis
Staying on top of ever-changing trends in the modern world is everything. AI's data analysis capabilities provide designers with valuable insights into design trends, consumer preferences, and market demands. By analyzing social media data, online searches, and purchasing patterns, AI algorithms can identify emerging trends, helping designers stay ahead of the curve. This data-driven approach empowers designers to make informed decisions, create designs that resonate with their target audience, and adapt to evolving design landscapes.
Embracing What AI Has To Offer
Like any technological advancement, the possibilities of AI utilization in interior design come with strings attached. While AI offers tremendous potential, ethical considerations must accompany its integration into the creative process. Designers must be mindful of the balance between human creativity and reliance on AI tools, which is a tricky task that many industry experts struggle to figure out. Architectural Digest writer Tim Nelson proposes to designers not to fear AI technologies just yet, as "limitations of these tools suggest that there's still no replacement for a human touch when it comes to shepherding a project to the finish line". The integration of AI into the interior design industry is transforming the creative process, offering designers unprecedented opportunities for inspiration, efficiency, and customization. That's why DesignSpec is continuing to investigate authentic ways of evolving the platform with AI technology in mind. The company is actively testing various AI-powered tools in day-to-day functions to help understand the technology better and make informed decisions down the road.
"The foundation of our platform is to streamline the design process so designers have more time to design and retain full control of their projects. We believe AI complements our platform and will allow creators to elevate their design solutions and provide enhanced experiences to clients and guests" – Graham Sanipelli, CEO and Co-Founder of DesignSpec.

DesignSpec is looking forward to seeing how AI will evolve and elevate the future of the interior design industry.