As a fourth generation accomplished artist in a long lineage of designers and inventors, Josh Raiffe has been inspired to create art since childhood. He always loved to experiment with different mediums but after he went to college for sculpture at the Tyler School of Art, he discovered glass blowing and fell in love with it. "The medium suited my personality because there is immediate satisfaction. A blown glass piece has to be made right then and there and there is little margin for error"–blown glass became his art calling.
Josh's pieces are first and foremost inspired by personal relationships and emotions such as a parent's love, conflict, anger or intimacy. He creates pieces that allow the owner/observer to feel something unique to themselves based on their own personal experiences. As an artist who celebrates self-expression he explained, "I hope people use my work to express themselves by adorning their spaces and their bodies with objects that speak to them".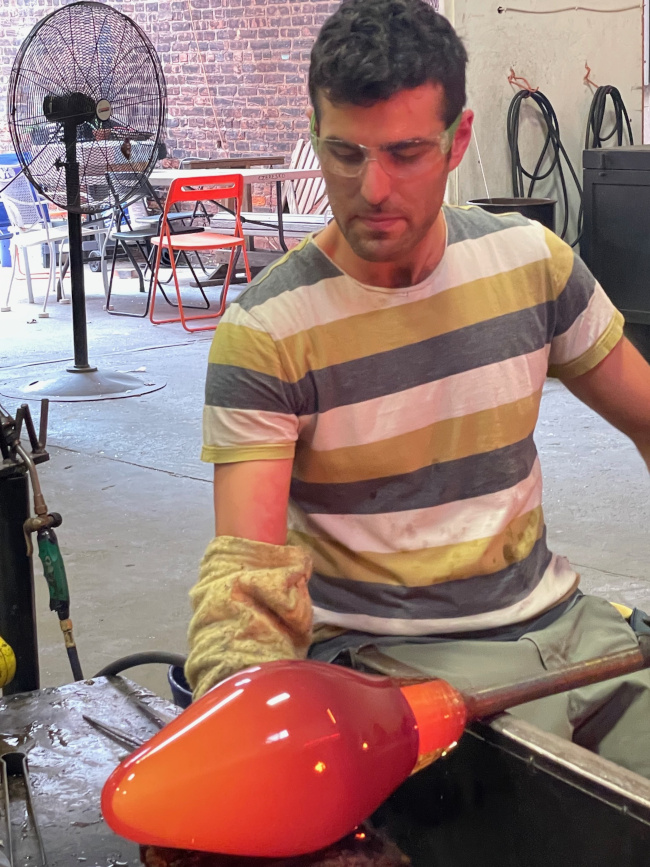 Following this premise, Josh recently rose to prominence due to his innovative creation, the Coperni glass bag which was his first foray into fashion accessories and made him a household name. When asked how a blown-glass artist got into fashion, Josh explained the inception of the glass bag which began with luxury fashion brand Coperni, approaching him to create a glass bag for a photo shoot. The request was made as a creative interpretation of the Coperni 'Swipe Bag' – a modern handbag designed to adorn a subject's hand.
The glass bag was a hyperbole on the concept of adorning the hand and Josh described his original design being inspired by the painting of Saint Denis of Paris–Saint Denis holds his own head in his hands and there is a halo in the place where his head once sat. Similarly, Josh wanted to create a piece that would show a halo around the hand of the person holding the piece. The colors Josh experimented with while creating the glass bags reflect this concept of eliminating the hand as if to reveal a divinity from within. Josh explained,
"My favorite color combination was fuchsia on the inside and silver-blue on the outside–this gives it a ghostly haze and it becomes such a complex color".
For Josh, experimenting with glass color combinations for the glass bags is one of his favorite aspects of the works. Typically, to apply color to glass is a technique called an overlay. Josh used this traditional technique on the inside of the bag but for the outside, he used a Swedish overlay to apply the silver-blue. The glass layering effect plays together but is amplified when he grinds down the outer layer, to better reveal the inside color.
Each bag is a very involved process and takes several days to create with little margin for error. One thing that's for certain, the pieces have clearly captured the attention of art and fashion enthusiasts alike, so the intricate process is time well spent. "I make these bags for whoever loves them, celebrity or not" . And regardless of who owns one, the glass bag is a shining example of what can be achieved when art and fashion collide.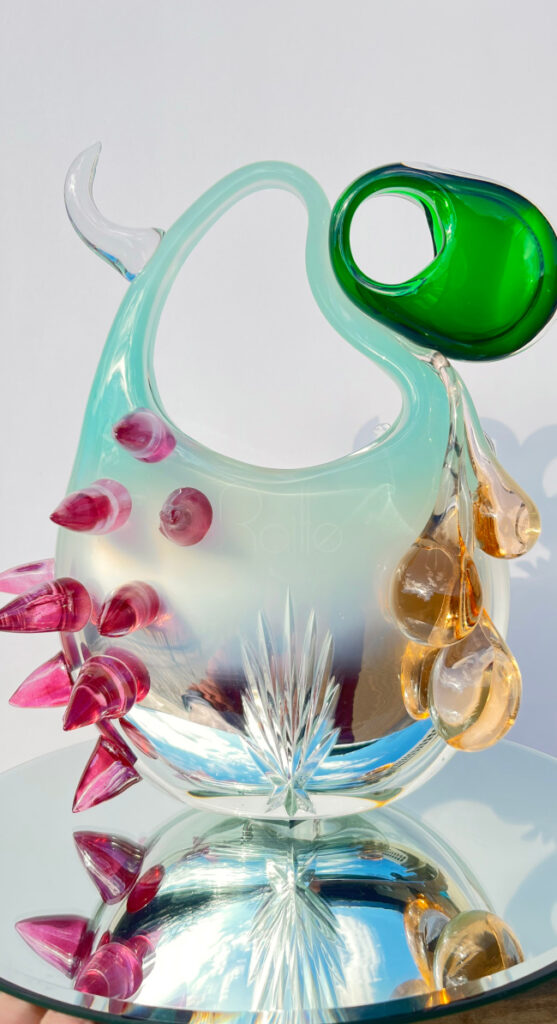 Similar to the beautiful spaces we create as designers, objects and spaces of interest are memorable when they prompt an emotional response from the audience experiencing it. Josh Raiffe is a Brooklyn-based designer who has collaborated with DesignSpec Co-Founder Fiona Sanipelli to create original art installations for Interiors Projects. Josh is available for other commissioned work and can be reached by visited his website at raiffe.com.