If you've ever wondered what would happen if a visionary aesthete bought a large portion of a town and renovated it, you would have your answer in Sloatsburg, New York's 'Valley Rock Inn'. Michael Bruno, the founder of 1st Dibs and HouseApp, has created an immaculate escape just one hour outside of NYC.
Nestled between Sterling Forest and Harriman State Park, the town of Sloatsburg is a small community about one hour from New York City. "The location couldn't be more perfect. It's a quick train ride from midtown and it's completely surrounded by beautiful parkland" says Bruno, who started buying property in the region in 2016. Michael's vision for the project was to revitalize Sloatsburg while creating an urban oasis for New Yorkers. "You can come here and rent bikes for the day or stay all weekend and relax poolside."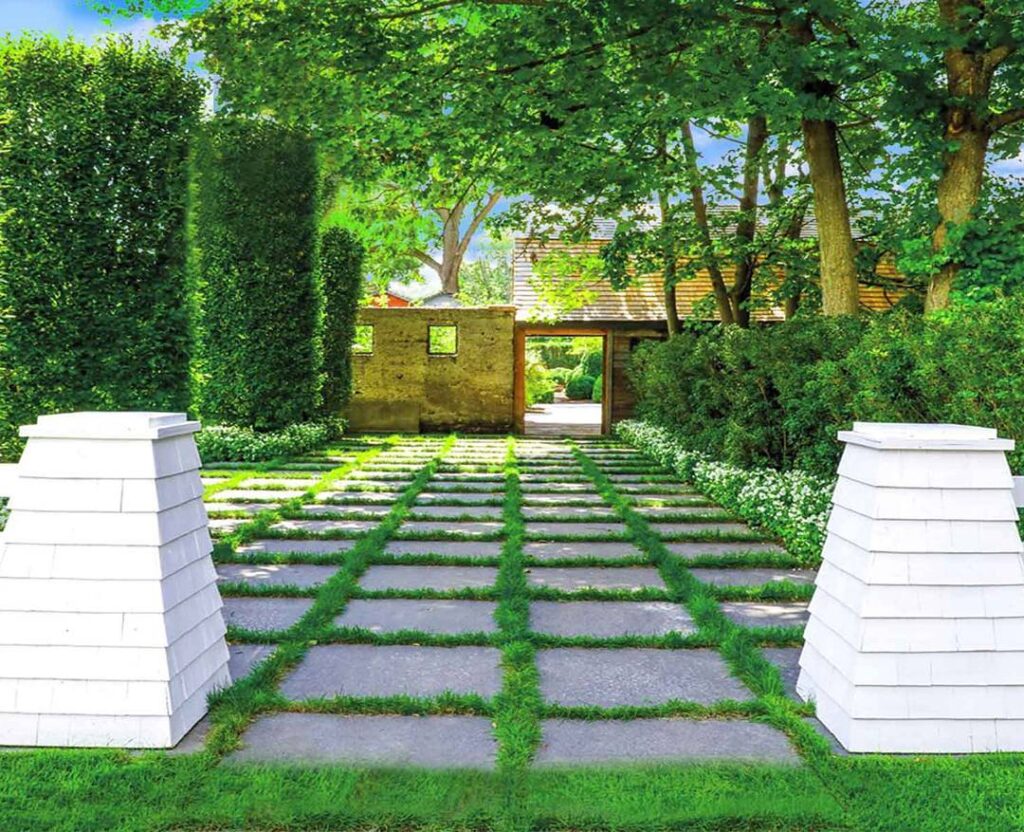 The complex boasts an impressive number of amenities, including outdoor dining spaces, two restaurants, four guest houses, a swimming pool, a gym, adventure equipment rentals, and even a contemporary art gallery. An organic farmer's market sells fresh pastries and produce from nearby Blooming Hill Farm in Monroe. And every single one of these elements is perfectly curated to the discerning eye.
Constructing this getaway hasn't been an easy interior design specification task. Years of planning and renovations took place before any customer tested out a cocktail. An old barn was converted from a wooden shell into a contemporary American restaurant. The guest houses are renovated Victorian homes that were overhauled and refurbished. Everything from the wood flooring to the roofs were replaced, but always in the style of the original architecture.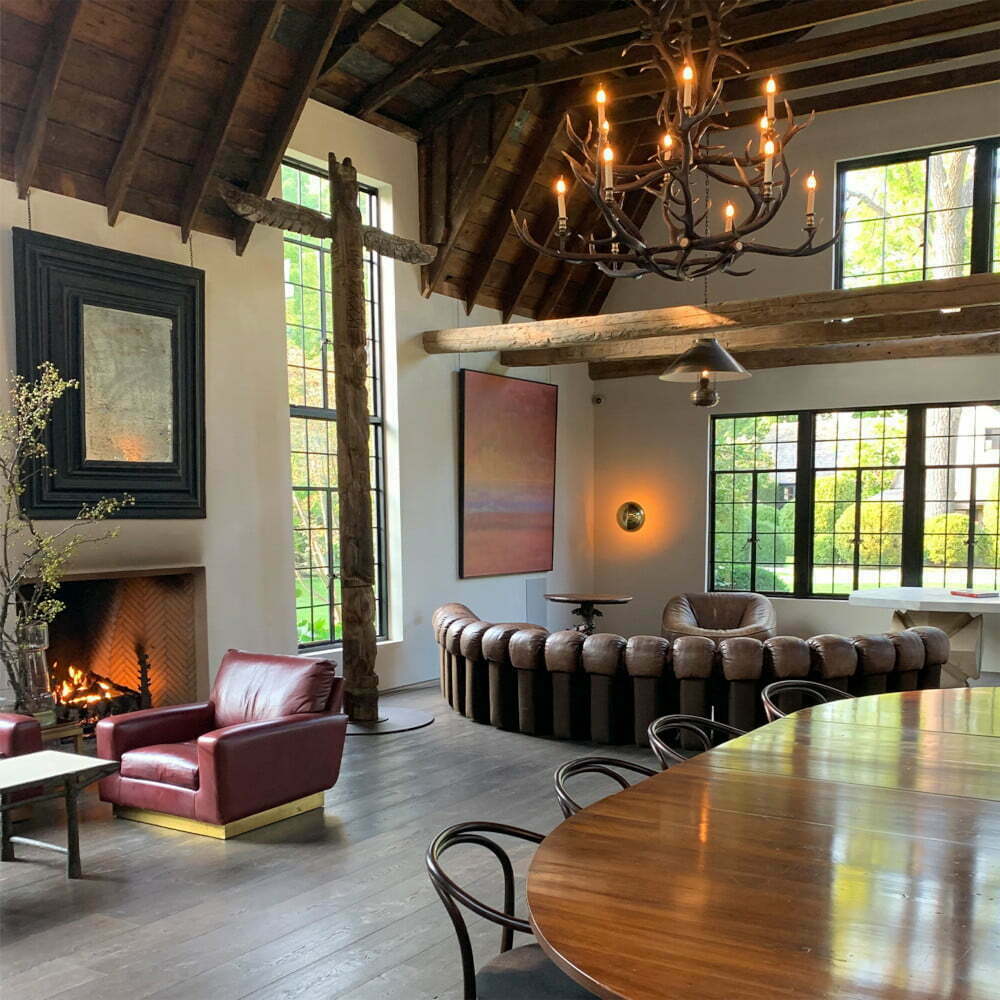 The complex is a demi-maze of outdoor spaces and dining experiences that encourage exploration. Guests enter upon a small rustic cabin that acts as a reception area. The room is typically decked out in seasonal branches and floral, and fruit infused water and suitably chill music prepare your senses for a serene experience. Past reception, you're greeted with an enclosed courtyard space featuring a 100-year old fountain, reflection pool and café tables. Adjacent to the courtyard is an outdoor dining room among an orchard of young growth trees.
The guest houses have been immaculately appointed using Michael's personal collection of antiques, art and furniture. Each guest house holds around 8-10 guests and has its own unique aesthetic. Wedding parties frequently rent these out and hold their events on the property.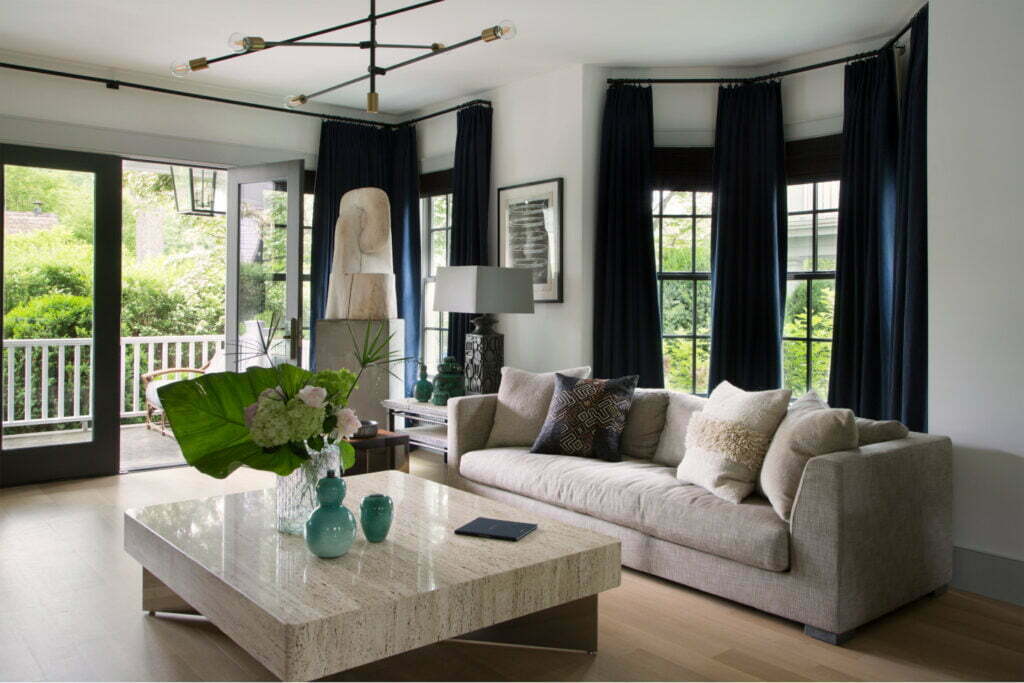 The former barn on site became The Lodge: a restaurant offering farm-to-table dining, two fireplaces and impossibly high ceilings. Authentic leather mid-century seating and large-scale art pieces create a glamorous setting for a wedding or just a night out.
One of the most popular additions to the property is the Cantina restaurant. The Cantina features wood fired pizza and après ski-themed appetizers, along with seasonal cocktails. The dining terrace overlooks a small yard with a collection of deeply comfortable outdoor lounge furniture layered with patterned textiles. Heaters and generous fire pits allow guests to drink warm winter cocktails throughout the colder months.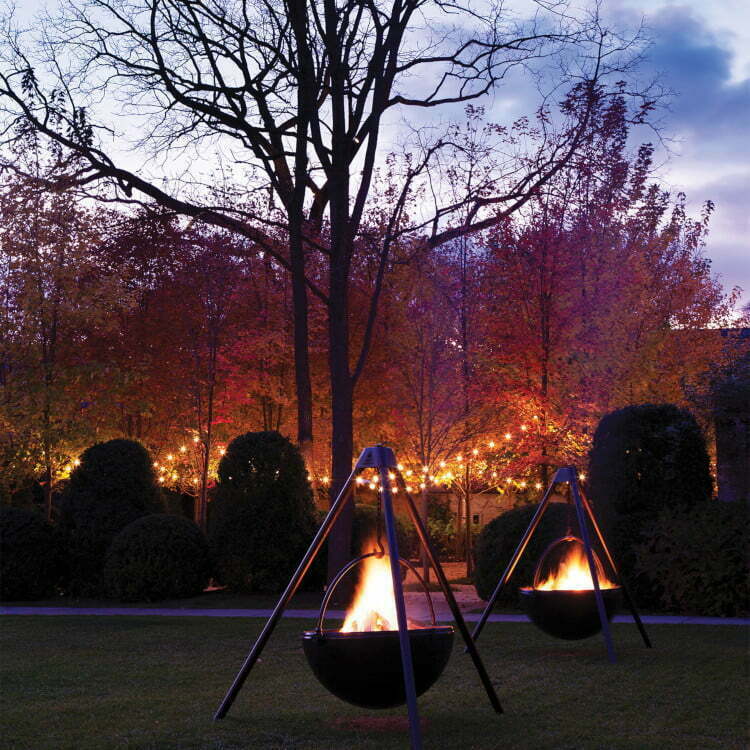 Nearby in the adjacent town of Tuxedo is Bruno's antique store: the always-evolving Tuxedo Park Junk Shop. An extension of Michael's vast personal collection, the store is a study in obsession with beautiful objects. Marble Futurist sculptures, jewelry from famous art collectors and panels from Frank Lloyd Wright homes dazzle the eye. Every piece in the store has a story and if you have the time, the curator will tell you everything you might ever want to know.
Valley Rock is bringing in people from all over the region, and nearby businesses are benefiting from it. Valley Rock's farmer's market is adjacent to a café on one side and a beer garden on the other, both of which have been busy since the inn opened. Michael plans to continue building on his dream venue and might even open horse stables down the line.
It's incredible what someone can accomplish with vision, impeccable taste and a tireless work ethic. Infusing so much magic into Sloatsburg has been a labor of love, but it has certainly paid off. New life has been brought into the town and the parkland nearby, and there is just a little more beauty in the world because of it.