Using DesignSpec software, the Post Company team brought to life a unique bakery preserving its French-Italian heritage.
France and Italy are well-known for their rich history, beautiful architecture, and divine cuisine. Post Company has brought this all together in a new restaurant & bakery called Raf's, located at 290 Elizabeth Street (the former home of Parisi Bakery). The space features a European-style patisserie and dining room with both French sensibility and Italian heritage indicative of the Nolita/SoHo area. The concept was envisioned by the Michelin-starred Musket Room owners Jennifer and Nicole Vitagliano, and they brought on NYC-based Post Company to execute their vision.
"We had a lot of fun with this design and returned to reference many classic Parisian elements. Because we're in Nolita however, we wanted to celebrate a strong Italian heritage and make sure those Italian-New York aesthetics came through," explained Leigh Salem, partner at Post Company.
Raf's had its opening this year on March 8th and the restaurant already caught the attention of locals. In the morning and afternoon, it functions as a classic bakery and cafe with fresh goods made in-house with the original brick ovens from the Parisi. At night, the dining room in the back comes alive. Basket goods from the bakery are also served down the street at the Musket Room.
The menu at Raf's demonstrates a perfect blend of French baked goods and Italian quality dishes. The daytime menu will consist of coffee, breads, and pastries in viennoiserie style along with light fare like sandwiches and salads. At night, the restaurant offers a full-service dinner that incorporates small plates, homemade pasta, an impressive array of wood-fired dishes, and Italian desserts.
Manhattan architecture has its own unique style and character, so when Post Company initially approached the project they wanted Raf's interior to honor the building's rich history and preserve the character of the space while incorporating modern elements. The team sourced vintage tables and chairs for a dining room with a timeless appeal, and freshened things up with new flooring, contemporary chandeliers, and custom banquette seating.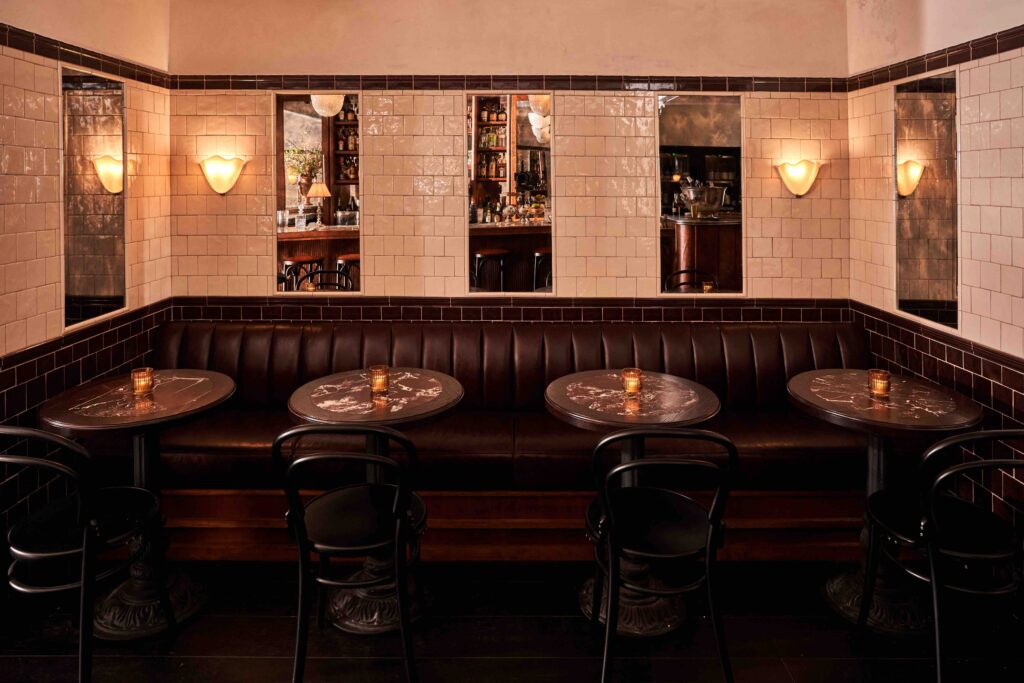 The kitchen is small but fully open to the restaurant so customers can experience the bustle of food preparation – a classic element of New York dining. The space is defined further by its walls finished with textured plasterwork done by a master craftsman – he helped redefine the crown molding and added significant depth to the interior architecture. The designers also worked closely with a muralist to create the custom ethereal sky mural on the ceiling.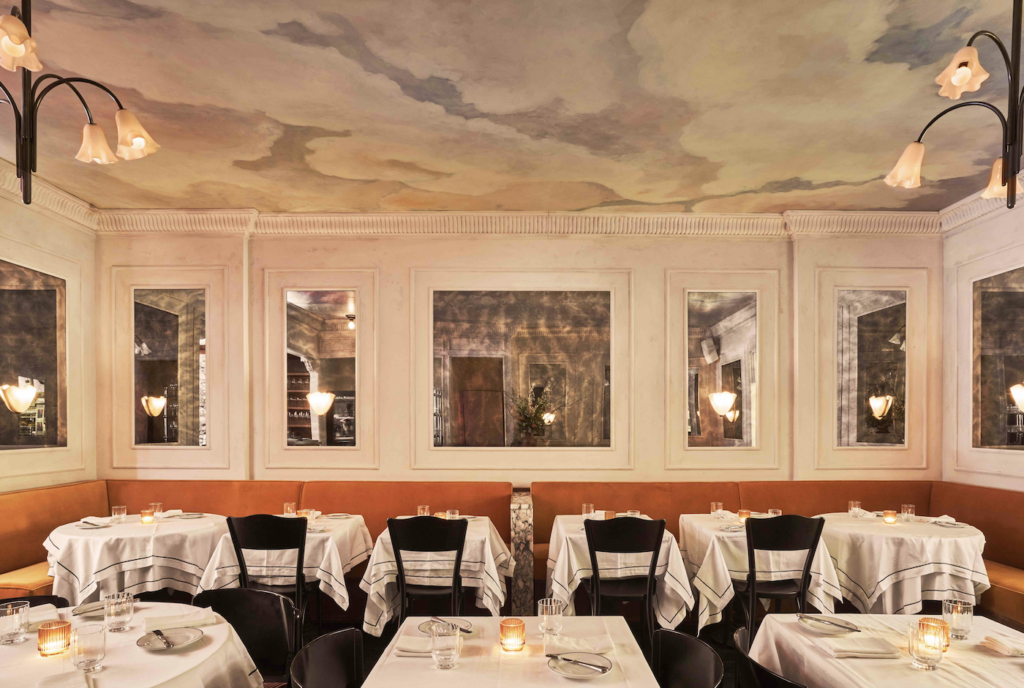 In order to keep this complex project organized and specified properly, the team relied on the DesignSpec platform from start to finish.
"For this project, we used DesignSpec in a really dynamic way…. not just for spec writing actually but also as a strategy and planning tool. For instance, because we use a lot of vintage pieces, we use the software to build out buying trips since we have a number of people sourcing products and we have to keep them organized. We start by building a catalog in DesignSpec with specs included and contributors update the catalog as they go." Leigh explained.
The Post Company team thoroughly enjoyed reviving the small former Parisi bakery and making its mark on Nolita. Raf's is currently operating as a dining place with a bakery with day-time hours and a menu soon to be announced. You can find the menu on their website. And check out the Post Company website for more innovative design inspiration.