Specification writing for casegoods within large hospitality projects can feel a bit daunting at times, but we've compiled several best practices to help you specify your casegoods efficiently. Keeping in mind that well-designed casegoods provide an important opportunity to maximize space and utility, specifying them is an integral part of the design process. In this article, we share some helpful spec writing and communication tips and guidelines so your design vision will be realized and your vendor partners can fabricate your casegoods as efficiently as possible.
Understand The Client and Brand:
Once the design concept has been approved, the functional aspects of the design need to be thoroughly considered. If you're at the point of specification, you already have a good understanding of the client and their brand needs. Before beginning the spec writing process, it's helpful to sit down with the client team to identify any known operational challenges and guest feedback. Find out what your client's brand standards are. Do they have particular preferences for kinetic function and materials? Are there storage requirements, electronic hook-ups or any other unique considerations? It's important to fully understand the functional and aesthetic requirements to help you make informed decisions during the specification process.
Space Planning:
Evaluate the available space and consider its dimensions, layout, and traffic flow. Determine how casegoods will fit into the overall design scheme and ensure they don't obstruct movement or become too much of a focal point. Casegoods typically are best when they complement the overall design, rather than stand out to create visual clutter. After you capture accurate site measurements to ensure a perfect fit, update your detailed floor plan to ensure all parties are up to date on any nuanced changes or updates.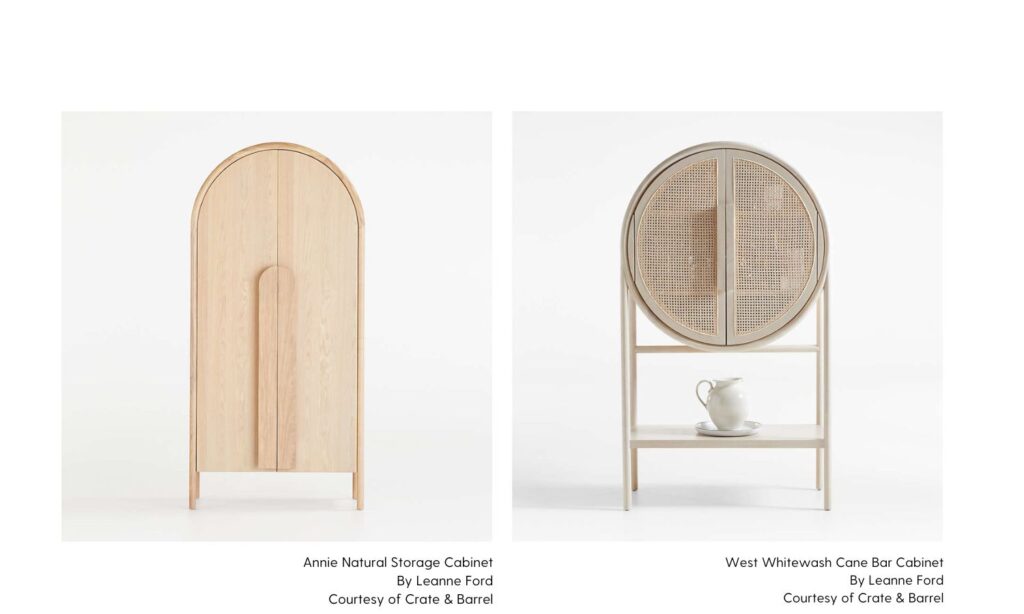 Identify The Purpose And Function:
Different casegoods serve varying purposes and functions within an interior space. Identify the specific requirements for each area or room, and consider ancillary uses like media consoles, ironing boards, or working space. These may need outlets, switches and grommets integrated into them. If the room is intended for families, consider their unique needs. If you're buying from brands like Crate & Barrel, be sure to consider whether these need any alterations to meet the requirements of the space. You will also need to specify which finish option you want on your spec sheet. When creating bespoke pieces from manufacturers like Lily Jack, these specific instructions can be included on your spec sheets. Casegoods should also be designed with storage, accessibility, and organization in mind.
Categorizing Case Goods:
Casegoods fall within two categories:
CG – Casegoods installed by FF&E installers (OFOI = owner furnished, owner installed) which can include:

Desk
Dresser
Nightstand
Side tables
Headboard


CGI – Casegoods that need to be installed by a General Contractor or specifically FF&E installer (OFCI = owner furnished, contractor installed). These often are more complicated and therefore require more time and skill to install. Items like:


Millwork closets and consoles
Vanities
Wet bars
Wood drapery valance (painted or stained)
Categorize your casegoods so you know how best to specify the pieces and how much detail needs to be included on your spec sheets.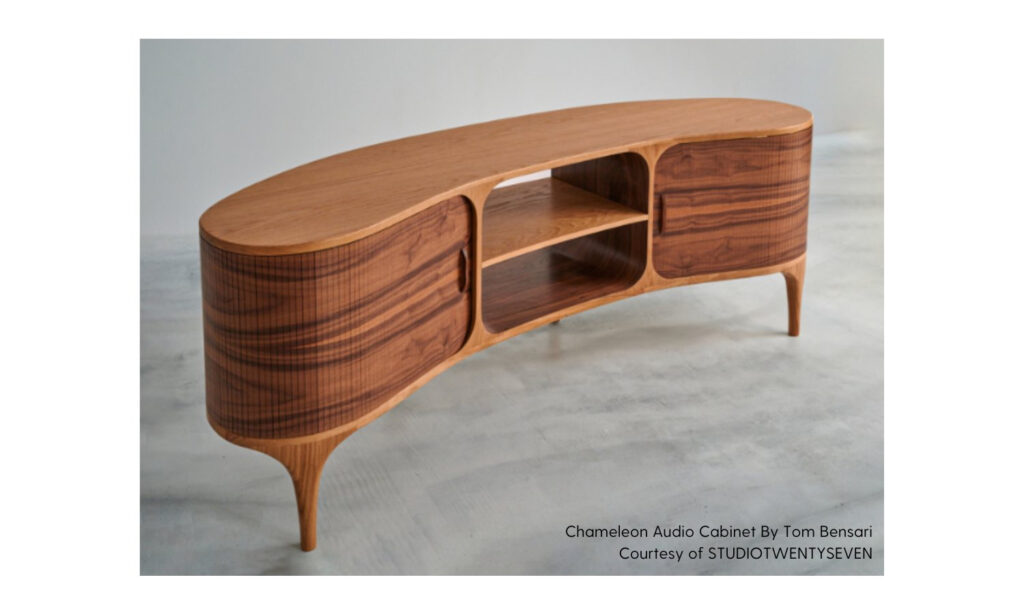 Dimensional Considerations And Quantities:
Height – consider the height of other elements nearby and how they work together. For example a hotel nightstand should be coordinated with mattress height, drawer glides and outlets
Depth – consider what elements will be placed nearby and on top. Consider things like laptops and lamps
Width – Consider operational space needed for cleaning staff etc. Ensure any obstructions on site are measured, such as baseboards.
Quantity Tracking – track your item quantities by assigning the quantity of your casegood to an area, this will help you organize where the item is going and how many are required for your project. If this is a custom casegood, this will also help your manufacturer to know how much they are supplying along with the associated cost per item and for the entire project.
Determine Material And Style:
When specifying your casegoods, you'll need to identify materials, finishes (wood species), and styles. Evaluate the durability, maintenance, and flame standards of different materials. You'll also need to understand how they fall in line with the client's brand needs, preferences and budget. Details like hardware, handles, and trim will also need to be included in your specifications.
What To Include On Your Spec Sheets:
In addition to the obvious functional elements like dimensions and materials mentioned above, here are a few elements to consider including where appropriate:
Photos

Inspirational photos or concept sketches with notes
Detailed imagery of the space
Hardware images
Shop drawings specifying requested details and dimensions for custom pieces
Specialty material imagery

Supplemental Specification Cuts

Power and data outlets
Integrated lighting
OS&E items that may affect the design like:

Mini fridge
Safe
Ironing board
Mattress
Sink/Faucet

Special Instructions

Specific notes to purchasing agent and manufacturer regarding bidding, substitutions, etc
Bullet point notes for standard requirements
Notes to manufacturer on expectations
Installation instructions
Maintenance instructions for the brand
Review the brand standards and ensure any special notes are included

Quantity Tracking:

Track your item quantities by assigning the quantity of your casegood to an area, this will help you organize where the item is going and how many of this item are required for your project. If this is a custom casegood, this will also help your manufacturer to know how much they are supplying along with the associated cost per item and for the entire project.
For more information on spec writing, our features page provides a good overview of industry standard specs.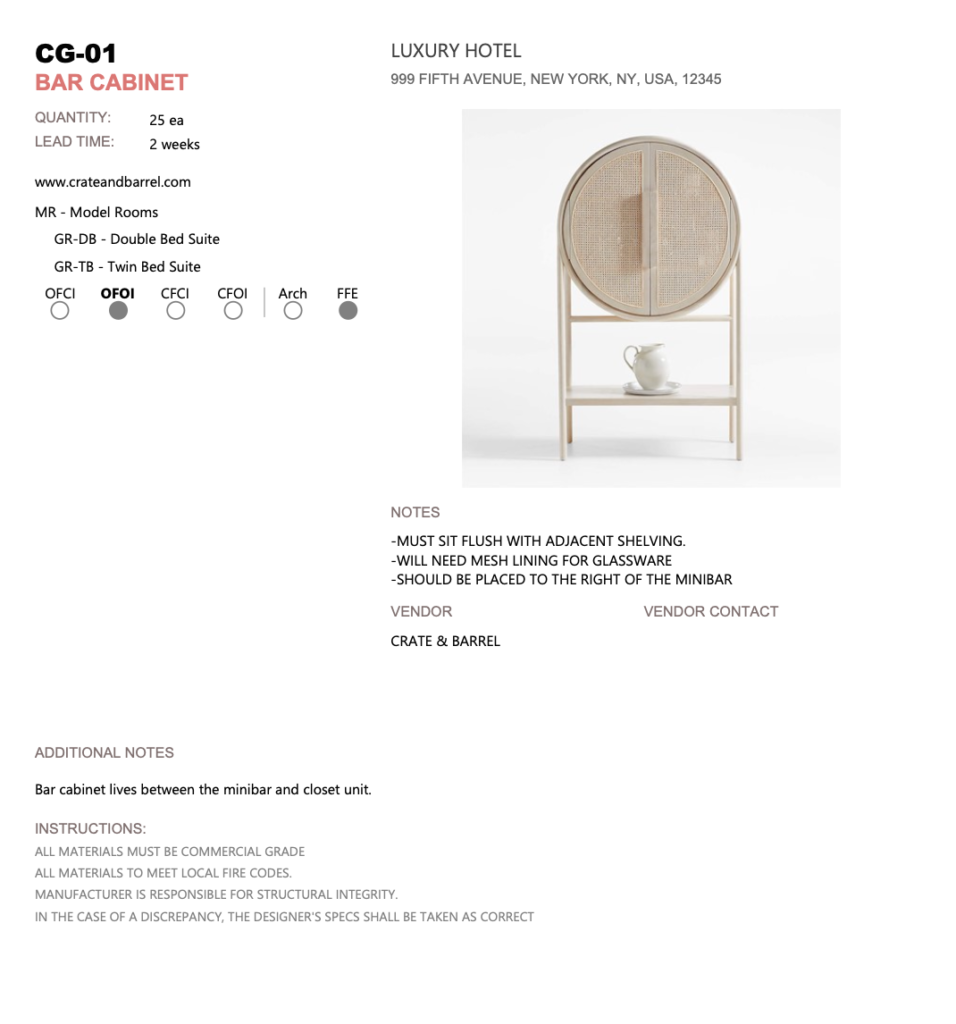 Quality And Budget Considerations:
While it's important to prioritize the client's budget, it's equally crucial to select casegoods of good quality. Balance the desired quality with the available budget by exploring various options. Research reputable manufacturers and suppliers that offer a range of price points without compromising on durability and functionality. Consider warranties, construction techniques, and reviews to ensure the chosen casegoods will stand the test of time.
Evaluate Sustainability And Eco-Friendliness:
As sustainability becomes increasingly important in interior design, consider the eco-friendliness of the case goods you specify. Look for furniture made from sustainably sourced materials or those with certifications like FSC (Forest Stewardship Council) or GREENGUARD. Opt for manufacturers with transparent and ethical manufacturing practices, including responsible waste management and minimal carbon footprint. Designing durable pieces also ensures a longer life before being replaced with a new design.
Communicate Clearly With Suppliers:
When working with suppliers or manufacturers, effective communication is key to ensuring accurate and timely delivery of specified casegoods. Ask for samples, swatches, shop drawings or material boards to verify quality and aesthetics before finalizing the order. DesignSpec will help you to clearly communicate your requirements, including dimensions, materials, finishes, and any customization notes that are crucial to the casegoods construction. . Our cloud-based platform also allows you and your partners to access updated spec information at any time so you're always on the same page.
Specifying casegoods is an integral part of the interior design process. By understanding the client's needs, considering space planning, choosing suitable materials and styles, writing standardized spec sheets, and communicating often with partners and vendors, interior designers can easily complete their casegoods spec writing.
DesignSpec is here to help with this process, so contact us with any casegood spec writing questions you have, we're happy to help.