Eunji Kim and Irene Yu of STUDIOETTE reveal the process, partnerships and spec writing for their latest project.
As a Designer, the projects that become the most fun are the ones you truly get to influence the concept. Your direction may not always be immediately clear, but after that first spark of creativity, the idea organically grows. When Eunji Kim and Irene Yu, founding partners of Studioette, began working on the concept for Desolation Hotel, they had to fit several puzzle pieces together. Their client had a passion for exploration and love for the Sierra Nevada region, thus it needed to be a refuge for urban dwellers, yet sustainable with low environmental impact. The space needed to be a mountain retreat that felt new, yet familiar–as if it belonged where it sat. So the STUDIOETTE team designed an experience honoring Lake Tahoe and gave guests a truly enjoyable experience.
"The project was so fun because we got to be part of the ideation process and explore the natural environment and other features and amenities near by. It was important to curate a unique experience to ensure the longevity of the property and business" Irene began.
Using inspiration from Desolation Wilderness, the natural reserve of the area, the team began to conduct research. They found local artisans, new materials, and completed a comprehensive analysis of the hospitality industry in the area.
"We wanted to make sure it felt like a restorative mountain retreat, while still incorporating the modern comforts of urban life. We studied Japanese and Scandinavian alpine cabins and brought those influences and furniture traditions into the design concept. Additionally, we wanted to celebrate local flora and fauna, so those influences are intentionally incorporated throughout the property"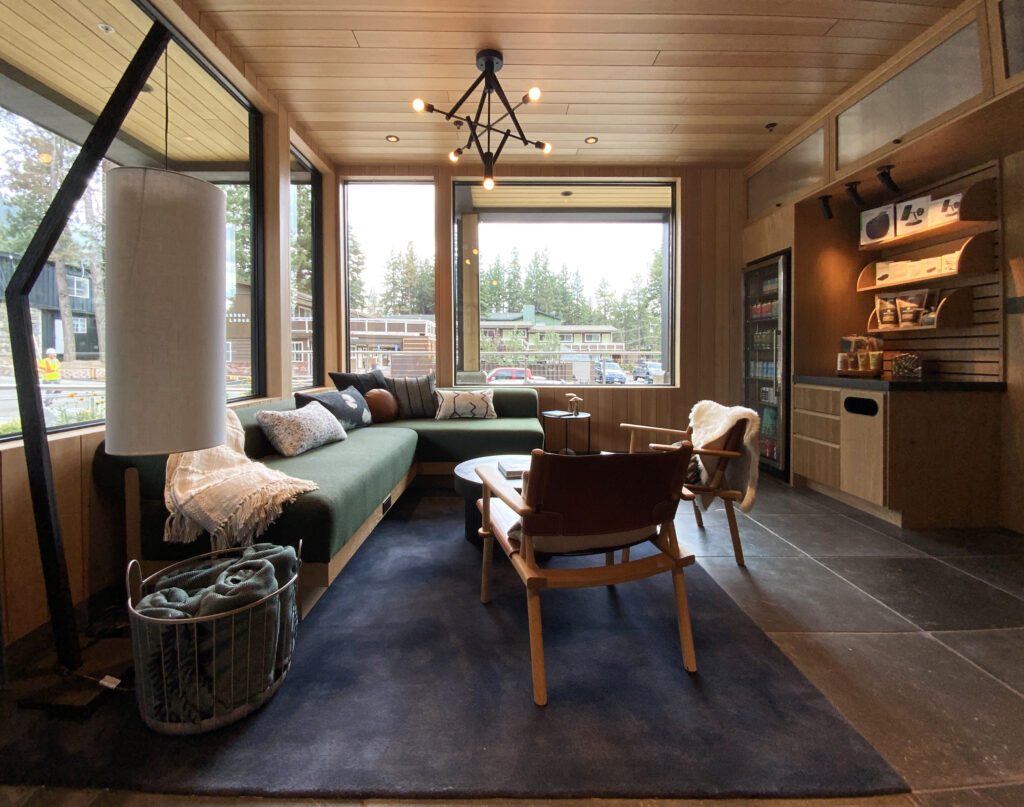 Playing With New Materials
Hemlock, found throughout the region is a great example of how the team incorporated local materials into the design. "We'd never used Hemlock before but it's affordable, durable, and proved to be a great option considering supply chain issues." reflected Eunji. Another minor puzzle piece…. a global pandemic.
Other materials the team incorporated were elegant stone slabs for the common spaces and vanities. "We had so much fun sourcing stone and spent days at stone yards looking for the perfect pieces. We didn't want to use marble because it's such a maintenance issue and doesn't stand up well in a hospitality environment, so we looked for granite and quartzite slabs. Ultimately we found a beautiful stone called Verde Karzai which has deep earthy greens and bright chartreuse swirls–this worked beautifully with our palette" said Irene.
The team also incorporated a lot of tile work from new manufacturers they had never used before. Inax tile, for example, is a Japanese tile studio with exceptional tile options. Given the team's extensive experience in hospitality design, they knew tile would be a great choice for the project and stand up well to wear and tear. They also collaborated with design studios Local Language and Tundish on bespoke pieces of art in the Lobby and the restaurant. "We worked with an amazing studio out of Boston called, Thayer Design Studio for custom wool rugs, fabricated domestically. They have beautiful products and a quick turn-around while also being easy to work" Irene explained.
More Unique Design Elements
It was important for the hotel to have unique design elements, similar to the surrounding environment, so each guest room was fitted with custom blankets and decorative pillows. The team used Blaanks out of LA for custom throw blanket design which reflects the elevated minimalist aesthetic of the mountain retreat. The custom throw blankets are 100% recycled cotton and indestructible so they were perfect for a hospitality project. Denvir Enterprises also partnered with the team on several pieces and helped to make the fabrication of certain items seamless. Debbie Bean from LA was another contributor and created a bespoke stained glass piece for the sauna which the team enjoyed seeing come to life.
"I really appreciated working with our client–they empowered us to explore a lot of custom collaborations, which added an important and nuanced layer to the storytelling of this property" Irene continued.
How Spec Writing Contributed
As designers, we are more than familiar with how many things must be considered and kept track of when sourcing and designing a hospitality project. You have multiple contributors, from contractors to furniture designers. Not only do you need to consider aesthetics and function but material, durability, price, and delivery methods.
When it came to spec writing for the project, the team relied upon DesignSpec to keep all of the important details documented.
"We used DesignSpec to document virtually everything throughout the project for several reasons. Since we were working with purchasing agents, they needed precise specs in order for them to create accurate purchase orders. Sometimes we had art packages with an array of specs that needed to be duplicated, and DesignSpec kept track of it. It was especially helpful at the end because we needed a closeout package documenting all of the design elements on the property. This was issued as a large spec book and allows the client to refer back to it and reorder items as needed. We took great care updating the specs throughout the project, so it was easier when we issued this document at the end of installation " recalled Irene.
Close-out Documents
These closeout documents, also known as a 'house book', are basically the design blueprint for the space and should contain all of the specifications of the interior space. This makes everyone's job easier on an ongoing basis once a space is complete.
"As a small team, we took pride in providing full-service design services. It really helped to close out the project with a detailed spec book. We felt confident we had given our clients all the tools they needed to manage the design without needing to contact us much once the project had completed. So far, we haven't had a single call requesting design references, and the project launched six months ago!" said Eunji.
Unique spaces
When asked what the team's favorite design element was, they said unanimously the doggy bed. "That was one non-negotiable from the hotel owners. The hotel needed to be dog friendly and this bespoke piece was super fun to design" Eunji continued. This gave the hotel a competitive edge since many of the surrounding mountain retreats do not allow dogs. It was a fun yet functional piece to design.
Another space the team highlighted was the lobby and retail space. "Although it's modest in size, we collaborated with some amazing creative partners like Jenny Vance from Vance Hospitality Group and David Fredrickson from Figure Plant on custom furniture and millwork" explained Irene. When you walk into the lobby, you can tell there was a lot of thought and intention in its design. Fun details are peppered throughout the property and will require multiple trips to find them all!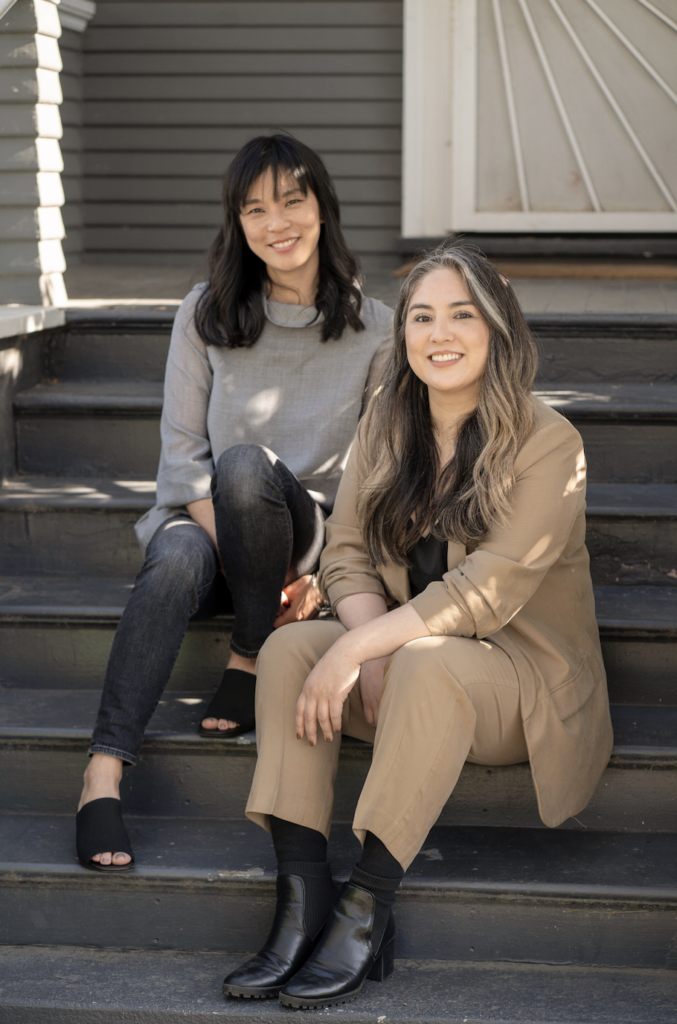 The STUDIOETTE team is located in the bay area and is available for design projects and collaboration.