Recently named by Travel + Leisure as one of the "Best New Resorts in the World", as well as "The 10 Best New Resorts in the U.S." Canoe Place is a jewel of the Hamptons, drawing visitors from all over the globe. Local New Yorkers and tourists alike are more than happy to make the 90 minute drive from Manhattan to this Long Island masterpiece to experience the elegance of "America's oldest inn". Founded in the 17th century, the boutique hotel has a wealth of history and architectural influences that are storied throughout the property. Remarkably, it had been empty and waiting for its revival for over 20 years. So when long-time residents and investors of Long Island properties, Gregg and Mitchell Rechler of Rechler Equity Partners tapped the team at Workstead to discuss the project and redesign the space, the team was honored to be part of it.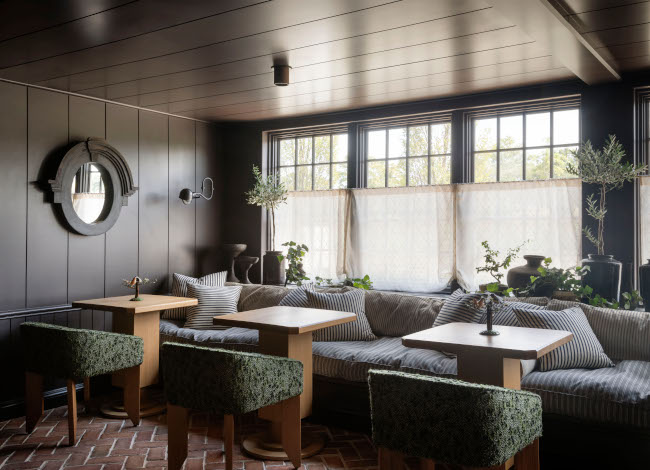 The property includes 20 guest rooms, five cottages, and several serene public spaces, that Workstead has designed to balance reverence for history with a vision of a "garden by the sea." It was important to the team to keep the property's authenticity and incorporate the original architect William Bottomley's vision into the new design. The resulting interior captures the resort's heyday between 1922 and the late 1940s, while also bringing it into the 21st century. The use of trellises throughout the inn has a particularly tranquil effect on the overall aesthetic as it creates a connection between indoors and the surrounding landscape, as well as adding a touch of nature to the interior spaces.
The gardens and coastal environments of the Hamptons were a great source of inspiration for Workstead's color palettes, which incorporate warm white wall and ceiling panels, such as those used in the Bottle Room. The meadow-like carpet in the adjoining dining room and sand tones used throughout the interior create a relaxed and comfortable atmosphere, while the signature green used to coat the tavern's indoor and outdoor bars evokes a shaded garden spot. The use of botanical and trellis-patterned wallpapers and pale blues in the guest rooms integrate the interior with the exterior spaces and bring a historical quality to the modern design.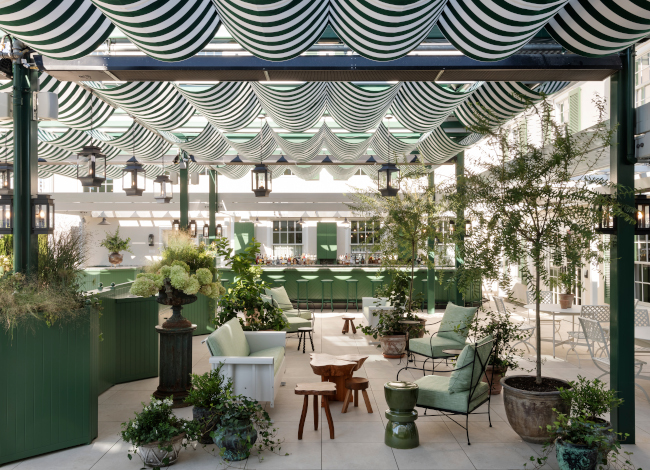 A familiar domesticity showers the inn and lends cohesion to diverse vignettes and eclectic compositions. The Bottle Room is lined with shelves of china, and the library centers on a wood-burning fireplace and refuge-like seating placed near windows to encourage lounging or soft conversation.
Overall, Workstead has achieved a comfortable yet luxurious aesthetic in the inn that elevates the guests' experience and feels more like an upscale Hamptons residence rather than a hotel. A clear example of Worksteads ability to break new creative ground with meticulous execution.
Given the intricacies of the project and how precise the master craftsmanship of the property needed to be, Maggie Boggs designer at Workstead had this to say about how DesignSpec has contributed to this, and other Workstead projects:
"Design Spec has been integral to creating the industry standard specifications needed for this project and many others. It is intuitive, user friendly, and I especially love that typical notes and instructions that are baked into the program from the beginning. It truly helped our team save many hours of back-end work, and I am happy to have found a forward-thinking platform that does not feel antiquated. They truly have thought of everything!"
The Workstead team can be contacted via their website workstead.com